The 2020 Atlantic hurricane season was one for the record books. Weather experts correctly predicted that there would be an above-average number of named hurricanes and storms. However, no one expected that we would have a record-breaking year that remained active even in the late months of October and November.
According to hurricane forecasters, the uptick in 2020 tropical storm activity was due to sea surface temperatures that were warmer than usual, strong West African storms, favourable wind patterns coming from Africa and an active La Nina.
There are many reasons why 2020 was added to the record books. The formation of tropical storms was so flawless, it looked as though someone was cranking them out of a large machine. Here are some of the memorable moments from 2020:
30 Named Storms: 2020 was the second season in history to use all letters of the English alphabet and use Greek letters. The previous record was 28 storms which were recorded in 2005.
The Earliest Named "C" Storm: Cristobal was the earliest "C" storm to form. It formed on June 1, 2020 and demolished the record set by Cindy which formed on June 20, 2017.
Ten Storms Formed in September: This is the record for the number of storms that formed in one month.
Five Active Storms in the Atlantic at the Same Time: There were five active storms in the Atlantic basin on September 14. This ties the record set in September 1971 for the greatest number of active storms at the same time in the basin.
Second Strongest November Hurricane: Hurricane Iota achieved this feat with 160 miles per hour. It is second to the Cuba hurricane of 1932 which reached 175 miles per hour.
May 2020
2020 was the sixth straight year where Atlantic activity began before the Jun 1st start date. However, this year there were two storms that formed in May. On May 16, Tropical Storm Arthur formed and reached a peak wind speed of 60 miles per hour. Then on May 27, Tropical Storm Bertha reached storm status, and dumped several inches of rain in Georgia and South Carolina.
June 2020
Tropical Storm Cristobal popped up in the Gulf of Mexico and made its way to Mexico and the United States. The storm claimed six lives as it pounded locations in its track with tropical storm force winds, storm surge and heavy rains. Tropical Dolly also formed during the month of June, however, it was a weak system that did not develop into a serious weather event.
July 2020
The Atlantic started to heat up in July, a month which saw five storms form. All of these storms set records because they were the earliest to form for their letters in the alphabet. Eduoard fizzled out; Fay caused flooding in New Jersey and Gonzalo downgraded before it reached the Caribbean chain. Hurricane Hanna reached Category 1 status and drenched the southern part of Texas with heavy rain which caused severe flooding. Hurricane Isaias also formed in July, but its damage was done in August.
August 2020
Isaias' track took it from Florida up along the east coast up to Pennsylvania. The impacts varied across the coastal states, but the constant factor was tropical storm wind gusts. Josephine and Kyle formed, but their impact was minimal. They were followed by Marco and Laura who reached Category 1 and Category 4 hurricane status respectively. Although it was demoted to tropical storm status, Marco drenched Louisiana and Florida. Laura, on the other hand, intensified very quickly between the Caribbean and the Gulf. It caused severe wind damage in Louisiana, and by the time the storm dissipated, it had caused approximately $15 billion dollars in damage.
September 2020
September is traditionally the month when tropical storm activity increases. 2020 did not disappoint with ten named storms. The weaker September storms were Omar, Rene, Vicky and Wilfred. Nana hit Belize as a Category 1; Paulette, Category 2 and Teddy, Category 4, did not strike Bermuda directly, but passed close enough to share doses of wind and rain. Hurricane Sally, which strengthened to Category 2, caused flooding and wind damage in Florida, Louisiana and Alabama. Another record was made when Alpha became the first tropical storm to make landfall in Portugal. Then, Beta became the first Greek-named storm to strike the United States when it brushed Texas.
October 2020
October proved that the 2020 Atlantic hurricane season was going to keep on giving. Warm waters and a strengthening La Nina were the conditions that allowed Tropical Storm Gamma and Hurricane Delta to form. Gamma crossed the Yucatan Peninsula as a strong tropical storm before being fused into Hurricane Delta. Delta hit the Louisiana as a Category 2 storm and caused mainly wind damage and storm surge. Hurricane Epsilon passed northeast of Bermuda, but the island was mostly spared from its wrath. Hurricane Zeta made landfall in Louisiana, but impacts were felt in New Orleans, Alabama and Georgia.
November 2020
November 2020 was a record month, thanks to Hurricane Eta and Tropical Storm Theta. By the time Eta was finished, the once Category 4 hurricane left costly flood damage in Nicaragua and Florida. Theta pushed the 2020 Atlantic hurricane season through the finish line to the year with the most named storms in history since 1851. Hurricane Iota, which tracked across Nicaragua, reached Category 5 status and became the second most powerful November hurricane in recorded history.
As we close the chapter to the 2020 Atlantic hurricane season, let us have a moment of silence for those lives that were lost and those lives that were forever changed by the year's storm events.
For additional reviews of the 2020 Atlantic hurricane season, visit the following links:
Norwall Power Systems: 2020 Atlantic Hurricane Season in Review
Anna Maria Island Living: 2020 Atlantic Hurricane Season Review
Space City Weather: A Review of the 2020 Atlantic hurricane season
WDSU News: Margaret Orr Explains Historic 2020 Hurricane Season
NOAA: 2020 Atlantic Hurricane Season
Weather Tiger: Year-in-Review: The Roaring 2020 Hurricane Season & What it Means
The New York Times: The 2020 Hurricane Season in Rewind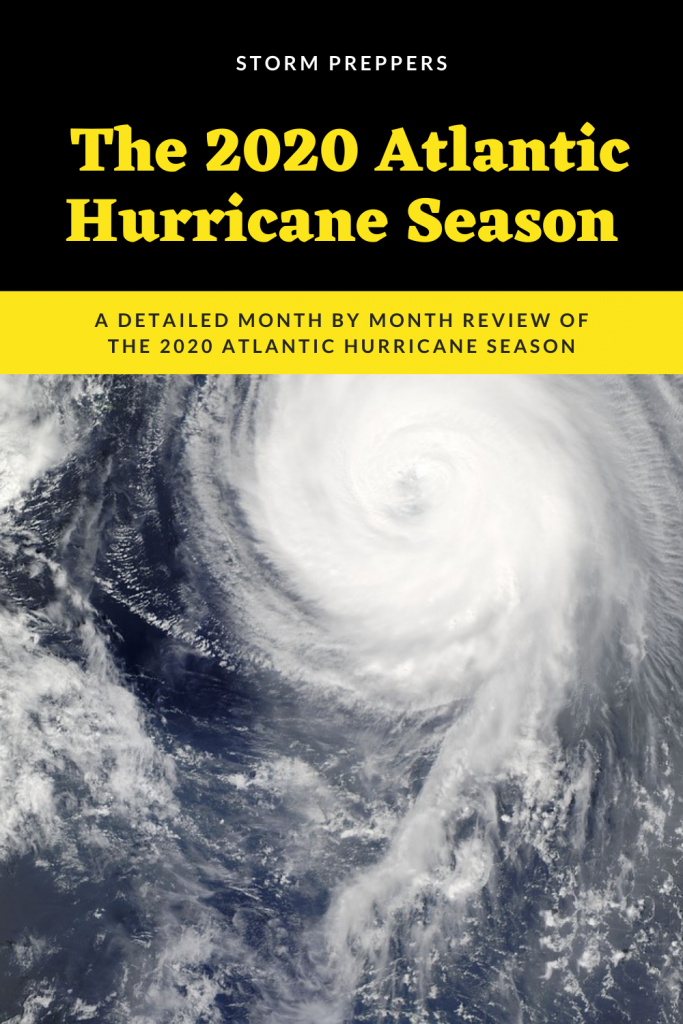 Related Posts